Xana Star profile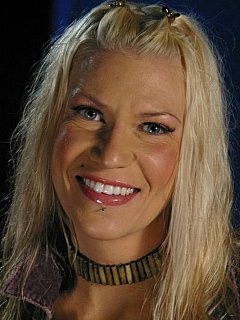 Birthday: August 13, 1977
Astrology: Leo
Birthplace: Phoenix, Arizona
Years Active: Since 2001
Ethnicity: Caucasian
Hair Color: Blond
Measurements: 36DD-26-36
Height: 5 feet, 5 inches (165 cm)
Weight: 127 lbs (58 kg)
Tattoos: Big Star Tattoo Upper Back; Circular Lower Back
Non-Ear Piercings: Clit; Navel
Xana Star started her modeling career in New York city in 2001, gaining valuable experience and her true identity as a model. Before getting into porn she worked in TV and Radio. In 2005, Xana moved to back Phoenix and began working in porn exclusively shooting with her husband Dax Star. She has been in the industry for over 5 years now. She owns her own production company where she directs and stars in her own line of fetish and erotic films.
Xana promotes fitness and health. She is an 100% natural beauty who describes herself as spiritual and optimistic. She loves all kinds of music except country and is a big movie buff.
Xana's BDSM limits:
Bondage:
I can be tied up in suspension bondage.
Penetration:
Vaginal Penetration by toys.
Female contact:
Full girl/girl contact with strap on sex is okay
Male contact:
I want contact kept to the minimum possible
Pain:
Moderate. I understand I have a safeword.