Whitney Stevens profile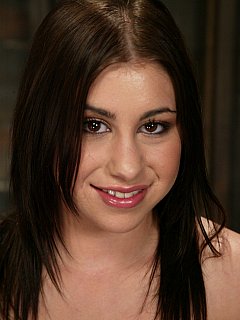 Birthday: August 25, 1987
Astrology: Virgo
Birthplace: Panama
Years Active: Since 2006
Ethnicity: Caucasian
Nationality/Heritage: American
Hair Color: Brown
Measurements: 34DD-25-36
Height: 5 feet, 3 inches (160 cm)
Weight: 112 lbs (51 kg)
Tattoos: Star on back of left hand; right shoulder
Whitney Stevens is an American pornographic actress.
Stevens was born in Panama, but grew up in Palm Springs California. She began appearing in pornographic films at the age of 18 and made more than two dozen movies before her nineteenth birthday. She debuted in porn in 2006, initially appearing mostly in threesomes with her real-life sister
Britney Stevens
, both typically having sex with a guy but not with each other. The two entered porn together at the same time and performed in eight scenes together.
Stevens estimates that she has appeared in approximately 100 hardcore scenes.
Stevens lost her virginity at age 16 to her then boyfriend. She figures she had sex with approximately 20 guys before her eighteenth birthday. At age 18 she was involved in her first threesome with sister Britney, with whom she has a very close relationship. She says that although her brother is aware of the Stevens sisters' porn careers, their mother is not.
She claims not to date, mostly due to her career. She says if she was going to date it would be with someone "in the industry", as it would be easier.
Whitney's Awards:
- 2007 - XRCO Award - Cream Dream (nomination)
- 2007 - Rog Awards Critic's Choice - Best Newbie