Whitney Prescott profile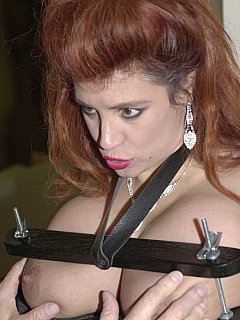 Birthday: August 19, 1964
Years Active: 1988-2004
Hair Color: Brown
Measurements: 38DD/23/34
Height: 5'3"
Weight: 105 lbs
Performer AKA: Krystle, Joi Reno
Whitney Prescott, a popular bondage model, had a peak period of popularity during the 1990's. She appeared in video and photography produced by Harmony, House of Milan (HOM), Devonshire, Shortfuse, and other major bondage producers of that period. Though her career peaked in the 1990's, she continued to work well into the 21st century. She frequently worked with bondage directors Kristine Imboch and Simone Devon and frequently appeared alongside Darla Crane,
Ashley Renee
, and other notable models of the period. Her website, www.whitneyprescott.com, was active for several years in the early 2000's.