Trina Michaels profile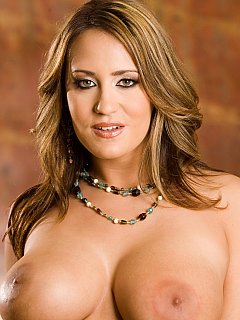 Birthday: January 13, 1982
Astrology: Capricorn
Birthplace: San Francisco, CA
Years Active: Started at 2004
Ethnicity: Caucasian
Nationality/Heritage: American
Hair Color: Blonde
Measurements: 34DD-24-36
Height: 5 feet, 5 inches (165 cm)
Weight: 134 lbs (61 kg)
Tattoos: Chinese symbol on left ring finger; "Jess" above heart on left bikini line; lower back
Non-Ear Piercings: Tongue; navel, clithood
Trina Michaels is a former pornographic actress.
She describes herself as being shy and quiet in high school with a quiet and sheltered home life.
Before entering the adult film business, she worked in a car insurance claims office and also worked as a waitress. She started doing promotional appearances for the alcoholic drink Hypnotiq; during the course of it she registered with a modeling website which a section for adult work. Within a month of registering she was contacted by someone from the L.A. Models office. She performed her first scene in May 2004 performing with Joey Ray for Jack?s Playground #19. Trina's films routinely included anal, double penetration, interracial, and facial cumshots.
She met her first boyfriend during the summer of her senior year when the two of them worked at a J. C. Penney store. She was still married to the same man when she entered adult film business; in January 2008 she announced that she would renew her wedding vows while on the floor at the AVN Adult Entertainment Expo.
In May 2008 Trina filed for divorce.
Trina is also a well-known fan of World Wrestling Entertainment. In September 2008, Trina announced she would be leaving porn to become a professional wrestler. Trina has worked for pro wrestling companies XPW, WEW, NWWL, PWA and AWS. She usually plays the role of an manager.
Trina has also appeared on the Howard Stern Show (Feb 07), Blind Date, MTV Exposed, Battle of the Bods (Fox Reality Network) and Pants off Dance Off (FUSE).
Trina's Awards:
2006 AVN nominee - Best New Starlet
2006 AVN Award nominee - Best Threeway Sex Scene
2007 AVN Award nominee - Best Anal Sex Scene in a Film
2007 AVN Award nominee - Best Group Sex Scene in a Film
2008 AVN Award nominee - Best Anal Sex Scene
2008 AVN Award nominee - Unsung Starlet of the Year
2008 F.A.M.E. Award finalist - Most Underrated Star
2011 AVN Award nominee - Crossover Star of the Year