Sirena Scott profile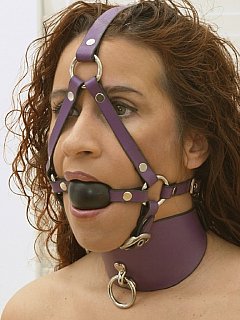 Height: 5' 6"
Weight: 120 lbs
Measurements: 36-25-35
Hair color: Brown
Hair length: Long
Eye color: Hazel
Ethnicity: Caucasian
Skin color: Olive
Sirena said:
"Hello!
My name is Sirena Scott! I have been a bondage/fetish/pin-up model since 1998 and I have had many wonderful experiences and had the chance to work with alot of great people. I don't pretend to be a haute coutere, sculpted cheekbone diva with an eighth grade body. I do not pretend to be a glamorous model but I lend a certain "something" to the camera. I am not afraid to be unglamorous or "ugly" for your camera as we are all committed to the same quality image the way YOU want it.
I do not feel that models are a dime a dozen dependent on a truly exceptional photographer to make her look good. Nor do I believe that only beautiful models can create beautiful images. Photography and modeling are both creative, artistic disciplines, each interdependent on the other for the genesis of inspiring artistry. Modeling is not about ME. It's about a process, a collaborative give and take between the spectator and the image. And safe, comfortable, creative and committed models -- in my opinion -- create the best images.
I am a Los Angeles native with Spanish, German, Irish and Apache Indian blood running through my veins. I'm 5'6" and I weigh anywhere from 115-125 lbs. depending on the time of month and what I've eaten (or not eaten) in the past week. I have long dark hair, hazel eyes and medium tan skin. I'm very proud of the fact that I have had no augmentation done on my body and I have no tattoos or piercings. I am a slender size 6 with curves in all the right places! I have size 8 feet with red-polished toes and toe rings on both feet.
I travel to New York City, San Jose/San Francisco, Las Vegas and Phoenix quite often.
Besides the numerous fetish videos that I have done, I have appeared in a few B-movies and on a couple of television shows. I am also a member of the Screen Actors Guild and I'm always looking for good roles!
I take modeling very seriously. It is not a hobby for me but a source of income for me. I work hard, I am professional and reliable which means I ALWAYS show up. If I have to cancel with you (which is RARE) you can bet I have a very good reason and will do my best to reschedule at your earliest convenience and probably even discount your next shoot. Please give me the same consideration.
Due to the amount of unprofessionalism in ths industry I am reluctant to work with any new producers or "professional" photographers unless you have been referred to me by another model. I am currently only working with private collectors, amateur photographers and custom requests. I am also available for private fetish sessions on the phone, on-line and in real-time."