Sinnamon Love profile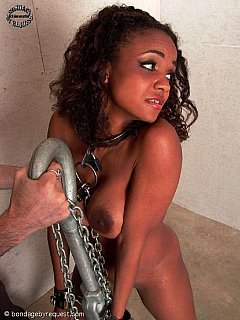 Birthday: December 31, 1973
Astrology: Capricorn
Birthplace: Flint, MI
Years Active: Since 1993
Ethnicity: Black
Nationality/Heritage: American
Hair Colors: Black/Brown/Red
Measurements: 34D-24-36
Height: 5 feet, 1 inches (155 cm)
Weight: 118 lbs (54 kg)
Tattoos: Japanese character for the word "love" in pubic area
Non-Ear Piercings: clithood
Performer AKA: Cinnamon Love
Sinnamon Love is an African American porn star, fetish model and glamour model.
Originally from Flint, Michigan, Sinnamon Love moved to Los Angeles for school. Two years later, she began working in the porn industry in 1993. She appeared in over 150 films, the first few being for Rodney Moore. Over the next several years she appeared in both gonzo and feature films performing primarily anal and double penetration sex scenes. One of her early career highlights was appearing in White Boys and Black Bitches by the late Alex DeRenzy, the only gangbang scene she?s ever done. She has appeared on the Jerry Springer Show in 1995.
Since she started in 1993, she has appeared in over 250 titles, 30 men?s magazines, the L.A. Times, London GQ, and The Philadelphia Inquirer. In 2005 she appeared on the cover of the premier issue of the hip hop/porn magazine Fish ?n Grits, alongside hip hop artist Redman. In 2005, she took salsa dancing lessons with artist Cee-Lo Green on Playboy TV for their fledgling network H.Y.P.E. TV. Love has appeared regularly on Playboy Radio and numerous other Playboy TV shows.
At the AVN Awards 2004, Love received nominations for the first movie she directed, My Black Ass 4 for "Best Ethnic Sex Scene ? Video" and "Best Anal Sex Scene ? Video" the later for her double anal/double vaginal scene in the film.
As a fetish model, Love has often been the first African American performer to appear on many hardcore BDSM websites, including Kink's. In 2007, she became the co-host of Fetish at Nite a live internet talk show on PrimetimeUncensored.com. Her bum is round. Sex is her passion.
She is the mother of three children: two daughters and a son.
Sinnamon's BDSM limits:
Bondage:
I can be tied up in suspension bondage.
Female contact:
Full girl/girl contact with strap on sex is okay
Penetration:
Anal and vaginal penetration by toys.
Pain:
I am a pain slut. I will have a safeword.