Sandra Romain profile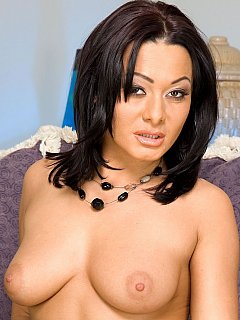 Birthday: March 26, 1978
Astrology: Aries
Birthplace: Timisoara, Romania
Years Active: Since 2001
Ethnicity: Caucasian
Nationality/Heritage: Romanian
Hair Colors: Black/Brown
Measurements: 36B-28-36
Height: 5 feet, 3 inches (160 cm)
Weight: 123 lbs (56 kg)
Performer AKA: Sandra Mertz, Mrs Romaine,
Mistress Sandra Romain
, Maria Popescu, Sandra Roman
There are only quite a handful of actresses from Romania who have managed to make a name in the business. Unfortunately, some people don't even know where Romania is, let alone distinguish Romanian beauty. But that was before Sandra Romain came in the limelight.
Sandra Romain started in the adult business in 2001. She was discovered by the adult movie agency, Floyd Agency and was soon given her acting debut in "P.Star," which is among the first professional films in Romania.
Later on, she transferred to Germany and worked with adult film icon, Titus Steel. It was then when this 5'3" actress blasted into full stardom. All of a sudden, adult fans in Europe knew her to be Sandra Roman or Romaine, or just plain Sandra, a beauty endowed with dark brown hair, brown eyes, and natural breasts.
In 2005, Sandra Romain flew to the US to try the American adult film scene. All her efforts paid off when Mark Spiegler took her under the care of his Spiegler Girls adult company, and Derek Hay hired her for his LA Direct Models agency. In the year of her American launch, Sandra earned a nomination for Foreign Female Performer of the Year in the AVN awards. The following year, the movie "Euro Domination" earned her the AVN Best Sex Scene In a Foreign Shot Production award.
Over the few years, Sandra has earned a reputation for incorporating roughness in her every performance. She sometimes hits and slaps her fellow performers -- routines which many fans enjoy watching. Furthermore, Sandra was crowned as the 'anal queen' for her double or sometimes triple anal scenes, as shown in several movies like "Anal Assassins," "Anal Frosting," "Anal Interpreter," and "Anal Showdown."
Sandra's Awards:
- 2006 Best Sex Scene In a Foreign Shot Production ? Euro Domination
- 2007 Best Anal Sex Scene ? Film ? Manhunters (Wicked Pictures)
- 2007 Best Group Sex Scene ? Video ? Fashionistas Safado: The Challenge (Evil Angel Productions)
- 2007 Best Sex Scene in a Foreign-Shot Production ? Outnumbered 4 (Erik Everhard/Evil Angel Productions)
- 2007 Best Three-Way Sex Scene ? Fuck Slaves (Jake Malone/Evil Angel Productions)
Sandra's BDSM limits:
Bondage:
I cannot be tied up.
Female contact:
Full girl/girl contact with strap on sex is okay
Male contact:
Full intercourse with condom is ok
Penetration:
Anal and vaginal penetration by toys.
Pain:
I want the pain kept to a minimum.