Salma de Nora profile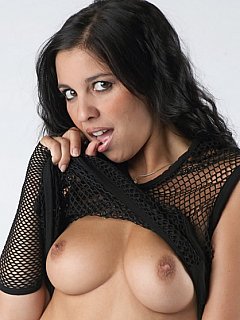 Birthday: June 16, 1979
Astrology: Gemini
Birthplace: Madrid, Spain
Years Active: Since 2003
Ethnicity: Caucasian
Nationality/Heritage: Spanish
Hair Color: Black
Measurements: 35D-26-36
Height: 5 feet, 4 inches (162 cm)
Weight: 116 lbs (53 kg)
Salma de Nora is a Spanish actress porno.
Early life
At the age of 14 years Salma Nora began with the interpretation in theater plays and conventional cinema. After some time jumped to the erotic photography and seeing the success she had, she moved to the film industry for adults.
Career
Salma de Nora began her career as an porn actress in December 2003 after visiting the Venus Festival in Berlin, Germany.
Salma Nora worked, in addition to Spain, in Netherlands, Switzerland, Belgium and Germany. In Berlin Salma de Nora recorded erotic videos for Playboy.
Salma de Nora has been involved in the television series entitled "S.O.S. Barracuda", has been several times in the tv show "Wahre Liebe" of channel Vox, and has been body doubled in the conventional film "Ich leih dir meinen Mann".
In Spain Salma has collaborated in the tv show "TNT" of Tele 5, and appeared several times in the magazine Intervi?.
Awards:
- 2005 Best Spanish actress at FICEB
- 2006 Ninfa Prize - Most Original Sex Scene - Caf? Diablo (with Max Cortes and
Dunia Montenegro
)
- 2006 Best Spanish actress at Brussels Festival
- 2006 Best Spanish actress at Paris Festival
- 2006 Best Spanish actress at Mallorca Festival
- 2007 Best Spanish actress at Madrid Festival
- 2007 Venus Award - Successful performing Businesswoman of the Year Europe