Ruby Luster profile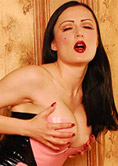 Body type: 5' 6"
Zodiac Sign: Aries
Status: Single
Ruby Luster: About Me:
I was born in a small town in Poland. My father is German and my mother is Polish. At the age of seven my family moved to upstate N.Y. While growing up there, I was trained in classic ballet and figure skating. I believe this is where my fascination with costumes and makeup began. I fell in love with the sheer stockings, corsets, and the severe makeup and chignon hairstyles. To this day, I have an immense obsession with classic theatrical ballet, and I make it a point to never miss the Great Russian Ballet and Swan Lake whenever it comes to town.
Throughout school I continued my training all the while learning to speak English. I can proudly say that I can still speak, read and write fluently in Polish. I had a very strict upbringing, which I believe set the foundation for me to be self motivated, disciplined, driven and ambitious. I always kept myself busy trying to learn as much as possible. To me there were never enough hours in the day to do all that I wanted to get done. As I got older, I realized that being a professional ballerina or an Olympic figure skater was never going to be a reality for me. I was always interested in so many different things and at that time, my love for the Arts and Sciences overpowered any other creative outlets I had. I studied every kind of art you could think of, Art History, Sculpting, Still Life, Sketching, Oil Painting and so on. I even considered becoming an animator thinking that maybe someday I could be creating my own cartoon movies. I had just as much of a passion for Science, particularly Forensic Science. I absolutely love it and today when I'm not modeling, I work part time as a Histologist. I have always been torn between books and spending time being creative. I will always do a little bit of both.
When I was sixteen I was approached by a photographer but being that my parents were so strict, I was not allowed to even contemplate modeling as a career much less a hobby. The photographer met with my parents and was persistent enough to convince them to let me shoot a few rolls with him. In the end however, my father forbid me to continue and so I went to college to study Forensic Science. I did at least, get a taste of what it was like to be in front of a camera and I knew someday I would venture down that path again.
After College I left N.Y. and moved to Florida. It was here that my love for fetish was born and evolved. I have always been enamored with fashion and glamour from the mid nineteenth century, and I have a vast collection of WWII era hats and lingerie, but here I discovered my love for latex fashion! The minute I felt the fabric between my fingertips and on my body I was completely hooked! I now have a growing collection of latex outfits as well as custom made pieces and I don't need an excuse to get all dolled up in the finest latex has tooffer. I decided that I wanted to be photographed in all my vintage lingerie and latex outfits, mostly for my own amusement. Not long after that I started my website rubyluster.com and have been creating these types of images on there ever since. I really love to mix up the pin up, glamour and fetish. I think that all three styles compliment one another and bring out a certain kind of elegance and beauty when combined.
Since then I have had the opportunity to travel the world and work with some of the best photographers in the buisness. I have appeared in a few publications such as Marquis magazine and most recently on the cover of City Life magazine as well as Car Kulture Deluxe. I have also been a repeat guest on Playboy Radio Night Calls. Most of my free time is spent working on my website and creating my burlesque shows, which involves the costumes and music. I have recently began creating fetish themed shows which is quite a challenging task but extremely erotic and exciting.
When I'm not traveling or working, I like to spend my time relaxing at home with my family, friends and my Persian kitties.