Renae Cruz profile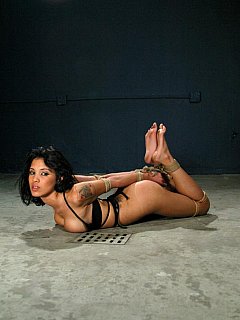 Birthday: November 29, 1987
Astrology: Sagittarius
Birthplace: New York, New York
Years Active: Since 2006
Ethnicity: Latin
Nationality/Heritage: American
Hair Color: Brown
Measurements: 34C-25-35
Height: 5 feet, 3 inches (160 cm)
Weight: 112 lbs (51 kg)
Tattoos: Butterfly above & left of pubic area; lower back; band round right ankle
Non-Ear Piercings: Clithood, navel
American porn actress Renae Cruz aka Alexia Carter is from Spanish and Brazilian ancestry and has lived in many places in the US and around the world, including Tokyo and Brazil. Renae started her sex life at a young age, and since then became fascinated with sex. A few months after she got her breast implants she got into the business. Although she has been around for only one year, Renae has already been featured in more than 50 movies and appeared in nearly 30 websites. Renae loves cock, but declares herself to be bisexual. she likes sweet guys that smell good and exotic girls.
Renae's BDSM limits:
Bondage:
I can be tied up in basic positions.
Female contact:
Full girl/girl contact with strap on sex is okay
Male contact:
Full intercourse with no condom is ok
Penetration:
Vaginal Penetration by toys
Pain:
Moderate. I understand I have a safeword.