Regan Reese profile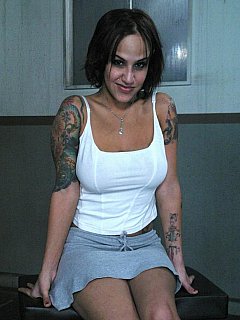 Birthday: October 23, 1984
Astrology: Scorpio
Birthplace: California
Years Active: Since 2006
Ethnicity: Caucasian
Nationality/Heritage: American
Hair Color: Brown
Measurements: 32D
Height: 5 feet, 0 inches (152 cm)
Weight: 110 lbs (50 kg)
Tattoos: right shoulder and upper arm; left shoulder; left side of stomach (bird); right side of stomach (bird); below navel; between shoulder blades; right hip; lower back; right butt cheek (paw print)
Non-Ear Piercings: left nostril; tongue.
Regan Reese entered the industry in 2006, and since then she has amassed 45 titles, to her name. Her filmography also includes scenes from her own website. Regan has a hot body, with a nice compact ass coupled with nice boobs. Regan has nice thick lips. She is so adorable; she looks great performing a handjob.
Regan's BDSM limits:
Bondage:
I can be tied up in suspension bondage.
Female contact:
Full girl/girl contact with strap on sex is okay
Penetration:
Vaginal Penetration by toys.
Pain:
Moderate. I understand I have a safeword.