Rachel Roxxx profile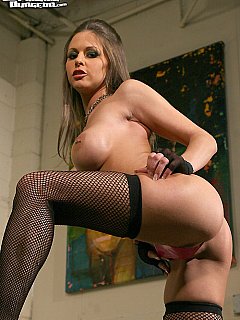 Birthdate: March 2, 1983
Birth location: San Antonio, Texas, US
Measurements: 34D - 23 - 34
Height: 5' 0" (152 cm)
Weight: 101 lbs.
Eye color: Blue
Hair color: Brown
Hair length: Long
Ethnicity: Caucasian
Tattoos: Butterfly/tribal lower back; 3 small stars on each hand; right foot
Non-Ear Piercings: Both nipples; navel
Performer AKA: Rachel Lyn
At the age of 21, Rachel was first introduced to the adult industry when a good friend of hers from High School gave her the scoop. Her curiosity then kicked into 2nd gear and she headed to Las Vegas for the AVN award show. After considering, she thought there wasn?t really much holding her back in Texas, so she headed to LA. Now at the age of 24, she is shooting a lot. Rachel says she is still getting ?used to it.? She says the hottest part on a man?s body are his legs; she likes women too, says the best thing is turning each other on, finds it to be sexy. Since then, Rachel has shot over 50 scenes and is enjoying every minute of it; although fairly new to the industry she really loves her job.
Rachel's BDSM limits:
Bondage:
I can be tied up in basic positions.
Female contact:
Full girl/girl contact with strap on sex is okay
Penetration:
Vaginal Penetration by toys.
Pain:
I want the pain kept to a minimum.