Penny Flame profile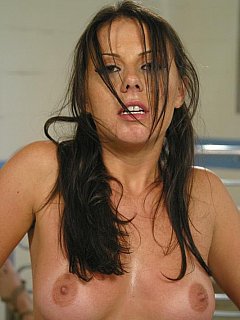 Birthday: February 22, 1983
Astrology: Pisces
Birthplace: b. Aurora, CO; r. Oakland, CA
Years Active: Started at 2002
Ethnicity: Caucasian
Nationality/Heritage: American
Hair Color: Brown
Measurements: 36C-25-35
Height: 5 feet, 3 inches (160 cm)
Weight: 112 lbs (51 kg)
Tattoos: middle of back
Non-Ear Piercings: navel
Performer AKA: Dolly, Penny Lane
Penny Flame is the stage name of an American pornographic actress, model, and film director. She is known for her girl-next-door looks, her sassy attitude and her passion for smoking marijuana. Most of her films have been gonzo or reality porn.
Penny Flame grew up in the San Francisco Bay Area and entered the adult industry in 2003. She chose the Penny Flame pseudonym as a combination of The Beatles song "Penny Lane" and her own smoking habit.
Although for a few years her material was only solo and lesbian in content (often produced by Danni Ashe), Flame first appeared in hardcore pornographic films in 2005. Her first starring role in a big budget production was in James Avalon's 2005 feature Darkside alongside Hillary Scott.
The majority of Flame's scenes have been in gonzo and reality porn productions, often for internet pornography sites such as Naughty America and studios like Shane's World. She frequently uses dirty talk in her scenes and has a smart and sassy attitude on sets. Flame is noted for her natural auburn hair, as well as assorted freckles regarded as beauty marks.
Penny Flame has an exclusive directing deal with Shane's World Studios, having directed the 2005 film Shane's World: Girls Night Out 3 and the 2006 films Shane's World: Girls Night Out 2, Blazed and Confused, and Blazed and Confused 2. In 2008 she signed a deal with Vivid Entertainment to direct her own line of movies under the studio?s sex-ed imprint Vivid Ed.
Penny is a practicing artist and creates paintings in her spare time. On her MySpace accounts and in her films, she has expressed her advocacy for marijuana.
Though she is an advocate of marijuana use, Flame has admitted to struggling with harder substance abuse, particularly in her early years in the industry when she was making a lot of money and was unhappy with her work in Gonzo film scenes. As of February 26, 2006 she announced that she had been clean from cocaine for a little over a year and a half. In addition, she expressed gratitude that she survived a major problem affecting newer members of the industry stating, "[It's hard watching] fifteen girls you know every year get addicted to something, disappear and then come back, or not come back at all, but it's constant." Flame has also mentioned that while she prefers the high end work, she looks at the world in a more business-like way, having traded her cocaine addiction for a BMW.
Penny's Awards:
2005 AVN Award for Best Solo Sex Scene
2006 AVN Award for Best Couples Sex Scene
2006 AVN Award for Best Group Sex Scene
2008 AVN Award for Best Actress
2008 AVN Award for Best Couples Sex Scene
2008 F.A.M.E. Awards - Favorite Oral Starlet
2010 AVN Award for Best Supporting Actress