Madison Young profile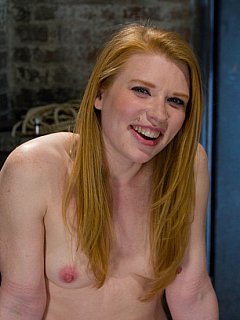 Birthday: September 20, 1980
Astrology: Virgo
Birthplace: Ohio
Years Active: Since 2004
Ethnicity: Caucasian
Nationality/Heritage: American
Hair Color: Red
Measurements: 34A-27-36
Height: 5 feet, 2 inches (157 cm)
Weight: 114 lbs (52 kg)
Tattoos: Between shoulder blades; star inside of right wrist
Non-Ear Piercings: Nipple; navel; clit; upper lip
Madison describes herself:
"I'm a San Francisco based bondage/ fetish model, adult performer, artist, gallerist, activist, published writer, rope slut, queer, and feminist. I spend more time than I care to admit in airports although I am trying to put more space between me and the tsa. I've been running Femina Potens an lgbt art gallery and performance space for the past 5 years and I've been traveling the world (Seattle, NYC, Tampa, London, Denmark, Portland, Chicago, LA, San Diego, and more)getting tied up for the camera and in real life. I'm a total exhibitionist and I started doing porn for a couple of reasons:
- 1. To make money to run my non profit art gallery
- 2. I'm a nympho and rope slut
- 3. I wanted to be part of a movement of sex positive feminists taking control of their sexuality on film. Some how documenting my sexual explorations always gave me some unbenounced permission to explore parts of my sexuality that I didn't feel comfortable exploring in the bed room. I love the camera. I always used to beg my partners to tape us having sex even before I got into the industry.
- 4. I believe that it is educational to document honest sexual exploration and experiences and I try to feed into that and put all of my sexual energy into a scene.

When I'm not traveling the world getting tied up and/or fucked or running the gallery. I'm either running my own production company KinkNextDoor.com or I'm writing my book of memoirs of my experiences in the industry. If I get any down time I'm spending time with my cats or my partner Mister Mogul. I like to sit under a shady tree and read a good book or cuddle up on the couch and watch Japanese horror films with my love. I'm also very into nesting right now. I love hgtv probably because I'm never at home. And I don't own a tv so I only watch hgtv on planes. Kinda ironic. I love going to museums and parks, to galleries and out for drinks with friends. I'm originally from Ohio but I love San Francisco and consider it to be my home. I'm a vegan cat loving pussy loving queer who happens to be dating a bio man with rope skills. My life is just like that."
Madison's BDSM limits:
Penetration:
Anal and vaginal penetration by toys.
Female contact:
Full girl/girl contact with strap on sex is okay
Male contact:
I want contact kept to the minimum possible
Bondage:
I can be tied up in suspension bondage.
Pain:
I am a pain slut. I will have a safeword.
Madison's Awards:
- Best SM Suspension Model from Bishop Awards.
- Voted One of the Top Ten Hotties by Fleshbot.
- Voted One of the Top Ten Bondage Models in the world by BondageAwards.
- Finalist in the Good Vibrations Erotic Film Festival for Writers and Rockstars.
- Awarded the Feminist Porn Award for my video Bondage Boob Tube.