Lorena Sanchez profile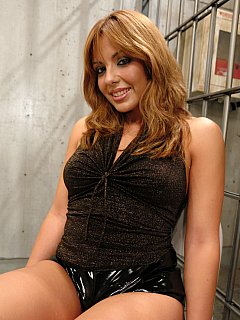 Birthday: June 21, 1986
Astrology: Cancer
Birthplace: Sacramento, CA
Years Active: Since 2006
Ethnicity: Latin
Nationality/Heritage: American
Hair Colors: Black/Brown/Dirty Blond
Measurements: 36C-24-36
Height: 5 feet, 3 inches (160 cm)
Weight: 121 lbs (55 kg)
Non-Ear Piercings: navel
Lorena's BDSM limits:
Penetration:
Vaginal Penetration by toys.
Female contact:
Giving or recieving oral sex is ok
Male contact:
Full intercourse with condom is ok
Bondage:
I can be tied up in basic positions.
Pain:
Moderate. I understand I have a safeword.
A beautiful Latina brunette with a sassy smile and an out-of-this-world ass, porn star Lorena Sanchez has nearly 100 adult films to her name. An expert in several martial arts, Lorena is pure muscle and has an outstanding repertoire that includes lesbian bondage, strap-on sex, domination, shibari, foot worship and more. Lorena is a Latin porn star with an impressive list of titles under her belt. She enjoys hanging out with her girlfriends, dancing and reading romance novels.