Lisa Ann profile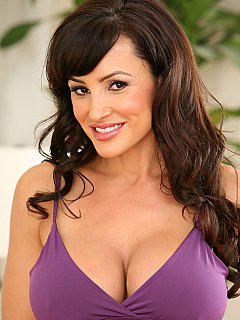 Lisa Ann does not define herself as professional bondage model but the enjoys feeling tight ropes around her body from time to time. Busty MILF adores the feeling of helplessness and loves being totally exposed. Having sex in bondage is another thing Lisa Ann is a big fan of.
Lisa is famed as a straight hardcore pornographic actress, best known for parodying Alaska Governor Sarah Palin in 2008 adult film "Who's Nailin' Paylin?".
Lisa Ann was born in Easton, Pennsylvania. She began erotic dancing. 1990 to pay her way through college, where she became a certified dental assistant. In July 1993, she became an adult actress, but quit in 1997 due to an AIDS scare. She spent several years touring as a feature dancer at strip clubs around the country, before returning to the sex industry as an agent, and later also as a performer. Her talent agency, Clear Talent Management, was formed in November 2006, and was later renamed Lisa Ann's Talent Management. It has now merged with Seymore Butts' Lighthouse Agency.
On October 2, 2008, Lisa Ann was confirmed to star in "Who's Nailin' Paylin?" parodying 2008 Republican Vice Presidential nominee Sarah Palin. The movie, produced by Larry Flynt's Hustler Video, portrays Lisa Ann in sex scenes with other female porn stars parodying well known female political figures, such as Hillary Clinton (played by veteran porn star Nina Hartley) and Condoleezza Rice (played by Jada Fire). This movie was released on election day November 4, 2008.
On October 31, 2008 Hustler announced that Lisa Ann was going to star in Obama is Nailin' Paylin a scene that continued on the adventures of Lisa as Serra Paylin except this time Barack Obama would be lampooned as well. The scene is only available through their Hustler members website and on the Blu-ray release of the movie. It is not available on the DVD release. This "bonus scene" was released on election eve November 3, 2008. It was announced in March 2009 that Hustler plans to produce a sequel to "Who's Nailin' Paylin?" with Lisa Ann reprising her role as "Serra Paylin". The movie was released on August 26, 2009 and titled "Letterman is Nailin Palin". She reprised her role as "Serra Paylin" in a cameo appearance in Eminem's new music video "We Made You".
Lisa Ann personal data:
Birthday: May 09, 1972
Astrology: Taurus
Birthplace: Easton, PA
Years Active: Since 1994
Ethnicity: Caucasian
Nationality/Heritage: Italian
Hair Color: Brown
Measurements: 38DD-20-34
Height: 5 feet, 2 inches (158 cm)
Weight: 110 lbs (50 kg)
Non-Ear Piercings: Navel
Performer AKA: Lisa, Leesa