Leah Luv profile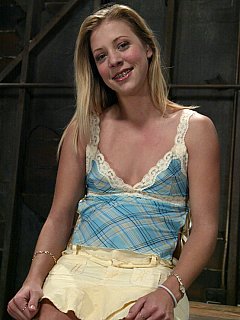 Birthday: July 28, 1984
Astrology: Leo
Birthplace: Long Beach, CA
Years Active: 2003-2011
Ethnicity: Caucasian
Nationality/Heritage: American
Hair Color: Blonde
Measurements: 36A-24-36
Height: 5 feet, 4 inches (163 cm)
Weight: 129 lbs (59 kg)
Non-Ear Piercings: Navel
Leah Luv is an American pornographic actress. Leah now lives in Calabasas.
Although Leah has appeared in a number of lesbian scenes and has been described as bisexual she identifies as straight on her mySpace page.
Luv grew up with a single father taking care of her and her brother, though only earning US$25,000 per year. She was an honor student through school, and received 12 college scholarship offers, none of which she accepted because she got pregnant. At the age of 17, she gave birth to a son, and had cancer.
Leah Luv started her career in adult entertainment as an exotic dancer but ventured into adult DVDs because the money was much better. She has used her new earnings to have her cancer treated. She has had a partial hysterectomy.
Leah Luv started in adult films at age 19 in July 2003 and performed in her first sex scene for director Ed Powers of World Modeling. Luv cites her relationship with fellow starlet Hillary Scott as demonstrable evidence of her bisexuality. In a 2005 interview, she states that she will subsequently be attending UCLA studying psychology.
She has done full vaginal fisting and other insertions and female ejaculation scenes for several websites in addition to her hardcore scenes released on DVD. She made her official directorial debut with Anarchy's 2006 release "Sweet My Ass" in which she appears in a double anal penetration.
Although she has portrayed the image of a schoolgirl teenager throughout her career, Leah has a son and on February 20, 2007, she announced her tentative retirement from the industry, indicating that she may still perform exclusively for Anarchy Films.
Leah Luv's Awards:
2006 CAVR Awards nominee - Star of the year
2006 FAME Awards - Favorite Oral Starlet Finalists
2007 FAME Awards - Favorite Oral Starlet Finalists
2007 FAME Finalists nominee - Dirtiest Girl in Porn
2007 AVN Awards nominee - Best Oral Sex Scene, Video
Don't forget to visit the Leah Luv's official website!