Kianna Dior profile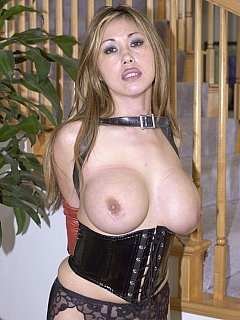 Birthday: November 17, 1969
Astrology: Scorpio
Birthplace: Sardis, British Columbia, Canada
Years Active: 1999-2006
Ethnicity: Polynesian
Nationality/Heritage: Canadian
Hair Color: Brown
Measurements: 34DD-25-34
Height: 5 feet, 4 inches (163 cm)
Weight: 118 lbs (54 kg)
Tattoos: vine on tailbone
Non-Ear Piercings: navel
Kianna grew up in a small town just outside Vancouver, British Columbia (Canada). Well that's how one story goes, the other story goes she was born in Hawaii and raised in California. I personally believe the Canada one since it seems to come from her own mouth in various interviews.
She began stripping in Vancouver after she had her first set of implants which is opposite of how most strippers go - they usually get the implants after they begin dancing. Kianna got them because she had been into working out with a boyfriend and as she got skinnier her boobs got smaller. Her boyfriend suggested she got implants and she went for it.
Kianna danced at local clubs between Vancouver and Alberta for about 4 years before a fellow dancer, Shay Sights, convinced her to try out porn videos. Kianna wanted the extra money that feature dancing could get her so agreed to do some videos for the exposure. This was back in 1995 and she has done over a hundred movies since then - doing hardcore but not anal because she just doesn't like it.
Kianna got her second set of breast implants after getting into a moped accident in Thailand and having one of them burst. She got them slightly bigger to her current DD cup size. While she doesn't date while in the business she does have plans to one day open a spa after she retires.