Kelle Marie profile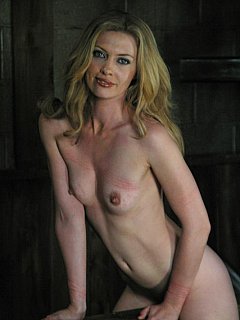 Birthday: October 01, 1980
Astrology: Libra
Birthplace: South Wales, United Kingdom
Years Active: Since 2001
Ethnicity: Caucasian
Nationality/Heritage: English
Hair Color: Blond
Measurements: 34C-24-34
Height: 5 feet, 7 inches (170 cm)
Weight: 105 lbs (48 kg)
Performer AKA: Kellemarie, Kelle Marie Farmer, Kelli Marie
Kelle Marie is a British erotic actress and porn-star.
She started modelling at 16 years (topless on page 3) in British newspapers. Since then she was published in many other top-shelf men's magazines such as Playboy Lingerie, Club, and Mayfair.
She was the Penthouse Pet of the Month for May 2001.
Kelle featured in a GOOD Magazine produced online video about Internet pornography.
Kelle Marie's BDSM limits:
Bondage:
I can be tied up in basic positions.
Penetration:
Vaginal Penetration by toys.
Pain:
I want the pain kept to a minimum.
Female contact:
Genitals can be penetrated by clean fingers
Male contact:
I want contact kept to the minimum possible