Katja Kassin profile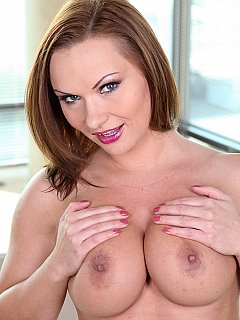 Birthday: September 24, 1979
Astrology: Libra
Birthplace: Leipzig, Germany
Years Active: Started at 2003
Ethnicity: Caucasian
Nationality/Heritage: German
Hair Colors: Brown/Red
Measurements: 34B-26-36
Height: 5 feet, 1 inches (155 cm)
Weight: 121 lbs (55 kg)
Tattoos: Band around right upper arm (getting lasered off); winged tiger on right shoulder
Non-Ear Piercings: Tongue; navel
Katja Kassin is the stage name of a German pornographic actress.
Katja is the eldest of three children. She was 10 years old when the Berlin Wall came down. When she was 15 years old she had her first job selling ice cream at an Italian restaurant after school and on the weekends. She was a waitress for six years during her high school and college time. In September 2000 she started working as a nude model posing for local amateur photographers and websites. After three years, she moved into softcore shoots and eventually came in contact with German porn star Dru Berrymore. Kassin was introduced to Mark Spiegler of the talent agency Spiegler Girls for whom she worked for three and a half years. On September 9, 2006, she signed with LA Direct Models.
Before moving to the United States Kassin studied Political Science, German Language, and Literature at the University of Leipzig. She has stated that she earned a degree equivalent to an Associate's degree.
Her first film scene in the United States was "Straight to the A 4" by Vince Voyeur for Red Light District. This was filmed in March 2003; before that she had only done two scenes in Europe. She permanently moved to the Los Angeles area in late-2004 and married a fellow male performer in January 2004.
On June 1, 2007 she got breast augmentation surgery from Dr. Jacobs in New York City. The 350cc silicone implants were inserted through the nipple and under the muscle. Her first shoot after recovery was on June 26, 2007.
Katja speaks six languages with "relative fluidity": English, German, Russian and three others. She adopted the first name "Katja" as her pseudonym at the suggestion of the photographer at her first nude shoot, after his niece.
Katja Kassin - Awards and nominations:
2003 - Adam Film World Award - Actress of the Year
2004 - Venus (Europa) - Jury Award for Best International Actress
2005 - XRCO - Best Orgasmic Analist
2006 - AVN - Best Solo Sex Scene ("Anal Showdown")
2009 - AVN Award - Best POV Sex Scene
Katja's BDSM limits:
Bondage: I can be tied up in suspension bondage.
Penetration: Anal and vaginal penetration by toys.
Female contact: Full girl/girl contact with strap on sex is okay.
Pain: I want the pain kept to a minimum.