Karin Sin profile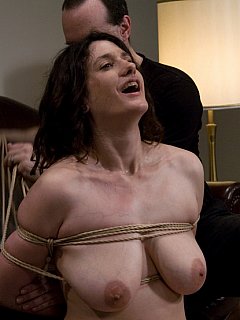 Ethnicity: Caucasian
Skin color: Olive
Eye color: Brown
Hair color: Black
Height: 5' 11"
Weight: 160 lbs
Measurements: 36dd-29-40
Fetish Model, BDSM Professional, Educator...
Karin Sin describes herself:
I have found my passion and it is helping you to explore yours. I am a very sweet sadist. A playful rope slut. A corseted lady. A harsh tyrant. A lovely vision.
BDSM is a lifestyle, art, and passion for me. I love to be creative and playful in my sessions, invoking an exciting interaction and exchange.
I am an unabashed pervert. Some of my favorites are:
- Foot, boot, shoe and leg worship (beautiful size 10s)
- Teasing with another mistress
- Bondage and sensory depravation
- Latex, Leather, Lace and Lingerie
- Objectification
- Nipple torture
- Face slapping
- Corsetry
- Puppy training
- Human furniture
- Corporeal punishment and CBT
- Caning
- Smothering
- Trampling
- Tickling
- Flogging and spankings
- Role-playing
- Cuckoldry
- Feminization and sissy training
- Getting messy with food
- Financial Domination
- Rollerskating?
As a sub I thoroughly enjoy submitting to a respectful and worthy Dom. I enjoy rope bondage, role-playing, and moderate pain including nipple torture, light spankings and floggings.