Justine Jolie profile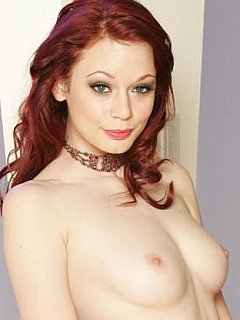 Birthdate: July 16, 1980
Birth location: St. Louis, Missouri, U.S.A.
Measurements: 34C-24-34
Height: 5 ft 7 in (1.70 m)
Weight: 114 lb (52 kg/8.1 st)
Eye colour: Blue
Hair colour: Red
Ethnicity: Caucasian
Aliases: Swan Hope, Erin Swan
In 2000, Justine Joli was working in the Glendale Galleria when she was noticed by porn director Kris Kramski and asked if she was interested in doing some modeling. Joli claims that Kramski's ulterior motive was to get her into a threesome with him and his girlfriend, but that she was only interested in the girlfriend and not him. Joli did not end up working with Kramski, but Kramski did pass her audition photos along to adult industry talent scout Roy Garcia, who promptly found work for her in adult modeling and films. Her first shoot was with Stephen Hicks. Joli notes that her mother drove her to her audition and all of her jobs for the first six months of her career because, "I was terrified to drive there".
At the beginning of her career, she worked extensively in men's magazines, appearing in numerous issues of Penthouse and Hustler, shooting six days a week for six months. She appeared on the cover of the March 2002 issue of Hustler and was the September 2007 Penthouse Pet of the Month. She was also a popular web model, appearing on sites such as ALS Scan, Matt's Models, and Danni's Hard Drive.
Her first film shoot was for Andrew Blake. During her first several years in adult films, she appeared mainly under the name 'Swan' and 'Hope', though in her appearances in Andrew Blake's films, she appeared simply as Justine. Eventually, she adopted the name Justine Joli. "Joli" was a pet name she had for one of her old lovers and means "pretty" in French, while "Justine" comes from her obsession with the Marquis de Sade character, Justine.
In her early work, under the name Swan, she typically had light blonde hair, a schoolgirlish appearance, wore relatively little makeup, and often wore glasses. In later work, under the name Justine or Justine Joli, she has red hair, a glamour or fashion model look, and is more heavily made up and fashionably dressed.
Joli describes herself as bisexual (being "60/40" in her preference toward men and women, respectively) in real life and is particularly noted as a girl-girl actress in adult films. As of 2007, she has not done any boy-girl scenes in an adult film, stating "I'm not comfortable doing boy/girl". However, early in her career, she did do explicit heterosexual photoset with porn photographer Peter Romero for the website POV Porn, though these photos were later removed from the site at her request. Joli also appears alone in many movies and photosets, either as a glamour or fetish model or in solo masturbation scenes. She's also done some BDSM porn and in her personal life she has described herself as "hardcore sub".
Although as of 2007, she has never won an AVN Award, she has been nominated on several occasions ? four nominations for "Best All-Girl Sex Scene ? Video" (2003, 2005, 2006, 2007), three nominations for "Best Tease Performance" (2003, 2004, 2006), and one nomination for "Best Solo Sex Scene" (2007).
Joli has appeared twice on both The Howard Stern Show and The Opie and Anthony Show.
She's also captured in Edouard Salier's short movie, "Flesh" which describes the life and death of Manhattan during a fictional 9/11.