Jezebelle Bond profile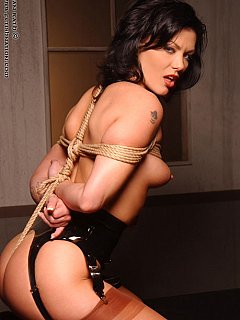 Birthday: May 27, 1979
Astrology: Gemini
Birthplace: b. Eureka,CA; r.San Luis Obispo, CA
Years Active: Since 1999
Ethnicity: Caucasian
Nationality/Heritage: American
Hair Color: Brown
Measurements: 34B-26-36
Height: 5 feet, 6 inches (168 cm)
Tattoos: star left wrist; left shoulder; right shoulder (both shoulder locations are high and outside); back of neck/upper spine; below navel; lower back; back of right leg above ankle
Non-Ear Piercings: labia; nipples
After seeing the movies Striptease and Showgirls, Jezebelle Bond decided to try and make a living as an exotic dancer. On her eighteenth birthday, she danced at an amateur night at the Spearmint Rhino in Santa Maria, California. She took home the first place prize and decided to become an exotic dancer full-time. After a few years as a dancer, she began to get bored of the job. She dreamed of becoming a feature dancer and the money that job would bring in, but knew it was not going to happen unless she was a magazine model or porn star. With that in mind, Bond started her porn career in 1999.
Her first year in the adult industry, she appeared in only two movies: Dirty Debutaunts #116 and Four Finger Club #8. Most of her first year in the industry was spent posing for magazine layouts.
Jezebelle's Awards:
- 2002 AVN Award nomination for "Best All-Girl Sex Scene ? Video" in Fast Cars & Tiki Bars with Bunny Luv and
Isabella Camille
.
Jezebelle's BDSM limits:
Bondage:
I can be tied up in basic positions.
Penetration:
Vaginal Penetration by toys.
Pain:
Moderate. I understand I have a safeword.
Female contact:
Full girl/girl contact with strap on sex is okay
Male contact:
Full intercourse with condom is ok