Jenna Presley profile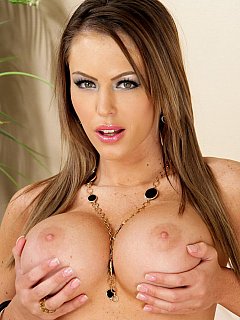 Birthday: April 01, 1987
Astrology: Aries
Birthplace: Chula Vista, CA
Years Active: Since 2005
Ethnicity: Caucasian/Latin
Nationality/Heritage: American
Hair Color: Brown
Measurements: 32B-22-32
Height: 5 feet, 1 inches (155 cm)
Weight: 94 lbs (43 kg)
Tattoos: single star on each pelvic bone; fairy on tailbone
Non-Ear Piercings: left nostril; tongue; navel
Jenna Presley is an American pornographic actress.
The oldest of three children, she graduated from Hilltop High School with honors in 2005. Her passion in life during high school was to become an anchor woman. However, her drive to become a woman in the newsroom ended when she began crossing the border into Mexico at the age of fifteen to party. This ended up leading to exotic dancing on the weekends in her teen years.
She began college at Santa Barbara City College in June 2005 and left in October 2005. Giving up on stripping for the time being, she began to work as a telemarketer to pay for food, rent, and school expenses. Eventually, she got sick of it and went back to stripping.
Before joining the porn industry, she began dancing at the Spearmint Rhino in Santa Barbara, California for 3 1/2 months before being hired by Derek Hay, owner of the LA Direct Models agency. To this day, LA Models still represents her interests in the adult entertainment industry.
In an interview written on January 20, 2005 for the website lukeisback.com, Jenna mentions her battle with her sexual past, especially her sexual assault and first sexual experience with a man at fourteen. She also mentions her battle with anorexia in her junior and senior years at high school, when she dropped to a nearly fatal 58 pounds. She also mentions her sexual promiscuity during college which led her to pursue ventures in the adult entertainment scene.
Since being in the business, Jenna has done about 125 porn scenes. She never does anal scenes, but does ejaculate in some scenes.
In 2006, Jenna tried out for the second season of Jenna's American Sex Star. She ended up making the finals where she placed second overall behind British/Asian porn actress Roxy Jezel.
In October 2007, Presley announced that she was shooting her final scenes with men.
Jenna's Awards:
- 2006 Nightmoves Award - Fan Choice for Best New Starlet
- 2006 XRCO Award nominee for Cream Dream
- 2007 AVN Award nominee for Best New Starlet