Janay profile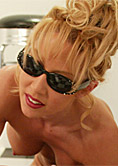 Ethnicity: Caucasian
Years Active: 2000-2007
Hair Color: Blonde
Janay is based in Los Angeles, California.
This blonde bombshell is very versitile in the adult and mainstream entertainment worlds!
She was mentioned in the cover Story of A.V.N magazines June 2001 issue to be one of 15 new performers poised to break BIG and has she ever! She was referred to as a Dom lovers damn-near ultimate wet dream! A.V.N. quoted:
"Look for this striking, piece of work to quite possibly get nominated later this year for Best New Starlet!!."
Blonde, beautiful, with a perfect bod and tanned creamy flesh, RedBoard's Janay is a deliciously wicked bitch!
Frequently decked out in full-on, mouth-watering Dominatrix regalia, Janay cracks her various whips at just two speeds - hard and harder - doing so coolly and methodically or, when she's really dishing out the abuse, with a cruel smirk on her comely countenance.
Janay is 5 ft 6 1/2 inches of pure diva delight! Her long golden locks and natural green eyes give her the appearance of the human barbie doll!
Janay has appeared in nearly 100 adult and specialty films!! She has been featured on the Playboy channel numerous times,Playboys Night Calls & Night calls 411 to name a few.
She has graced the pages of Playboys Special Edition, Privates, Fetish, Fox, AVN and many other adult and mainstream magazines since the birth of her stardom!
This playful vixen worked with the World Wrestling Federation for more than two years and was an undefeated womans champion submission wrestler with Academy productions & Bitch Brawl Wrestling.
She has appeared in mainstream Larry Flint productions and loves comercial-print modeling.
Janay's film series has been nominated for AVN awards for both 2002 & 2003, She has appeared on Vivid TV, Adam & Eve, Spice, Hot Network,E-TV,Talk Soup, and even the Jenny Jones and Jerry Springer Shows!(more than 12 guest appearances!)She was even a Miss Hawallian Tropic girl!
This delightful lady has worked with HBO in main stream productions and you may recognize her from Playboys shooting stars!