Jada Stevens profile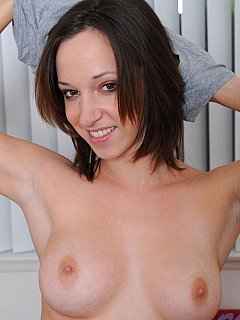 Birthday: December 31, 1988
Astrology: Capricorn
Birthplace: Georgia
Year Active: Started at 2008
Ethnicity: Caucasian
Nationality/Heritage: American
Eye Color: Hazel
Hair Color: Blonde/Brunette
Measurements: 34B-26-35
Height: 5 feet, 2 inches (157 cm)
Weight: 114 lbs (52 kg)
Tattoos: Chinese symbol on back of neck
Piercings: Navel
Performer AKA: Jade Stevens, Jacia Stevens
Jada Stevens was born in Atlanta, Georgia. It is there where she currently resides and also works at a local nightclub as a dancer. She started dancing at the age of 19. A couple of years later flew out to LA, where she met up with a good friend, who was already working in the porn industry, and that is how she got started. Jada says, she enjoys both jobs equally.
Jada's favorite place to visit is Hawaii. Her favorite food is hot wings and ice cream. She loves to listen to R&B and hip hop; she says she is crazy for music! Jada spends her "off time" going out to the clubs and dancing with her friends. She also, loves to get manicures and pedicures, shopping, action movies, and is crazy about make-up. Her turn ons on a man are his muscular tones. Her favorite position is doggy and has admitted to saying, her sexual fantasy is doing it everyway possible way in a tub of blue Jell-O. Jada plans on pursuing her dreams of becoming a veterinarian.
In a recent interview she was quoted saying, "I am who I am, I don't like the drama scene, it is too much time, that I don't have, and a lot of stress which nobody wants. I live life in the fast lane and it gets old but the spot lights GREAT."
Jada Stevens' BDSM limits:
Bondage: I can be tied up in basic positions.
Penetration: Vaginal penetration.
Female Contact: Full intercourse is ok.
Male Contact: Full intercourse is ok.
Pain: I can take a moderate amount of pain.