Hollie Stevens profile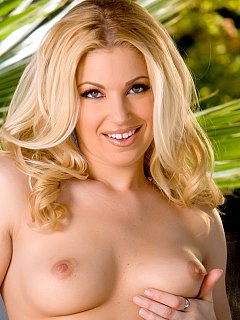 Born: January 4, 1982 Died: July 2, 2012
Astrology: Capricorn
Birthplace: Kansas City, MO
Years Active: 2003-2011
Ethnicity: Caucasian
Nationality/Heritage: American
Hair Color: Blonde
Measurements: 36B-27-37
Height: 5 feet, 9 inches (175 cm)
Weight: 132 lbs (60 kg)
Tattoos: Green star below left elbow
Non-Ear Piercings: Tongue
Performer AKA: Holly Stevens
Hollie Stevens has been one busy little beauty in the time since she made her hardcore debut. A curvaceous blonde bombshell that hails originally from Kansas City, Hollie is the very picture of fresh-faced Midwestern allure. She packs some breathtaking curves onto her leggy 5'9 frame, and exudes a brash, almost bratty attitude that makes her all the more enticing.
"I didn't grow up on a farm or anything. As far as work, I waitressed, but before that, I worked at Mr. Good Sense, a sub sandwich place, and it was the easiest job I ever had and if they paid a lot more, I'd still be working there."
How did you become a dancer? - "Me and some of my guy friends went out it was on my guy friends' birthdays and I was 18; I'd never been to a strip club, and I was like, 'Yeah, let's go.' And we went, and they were all like, 'Oh, you could do that.' And I had no job at the time, so I figured it couldn't hurt."
How did you get into porn? - "I started doing featuring, and a lot of features did movies, and I talked to them a lot about it, and that encouraged me to get into the business."
First sexual experience with a male: "It was something that I wanted to do. I was 15, I had a boyfriend, and I just kind of wanted to give it a shot."
First sexual experience with a female: "It was just me and one of my friends, we danced together, and we hung out one night and it just kind of happened."
Favorite sex position: Doggie.
First sex scene: "It was a boy/girl/girl scene with Joel Lawrence and Bridgette Kerkove. It was really intimidating, and painful. I wasn't really used to that. I cannot just take something like that; I've got to work into it, but there really wasn't enough time. And then the next day, I had to do another boy/girl/girl scene with Bridgette and Julian."
How she got her name: "When I began dancing, I went by Hollie, so I stuck with it. And at the club, they had an upper deck that was a porn store, and these guys said the best way to find a name was to look at all the boxes. That's where I got Stevens."
Hollie Stevens died in July 2012 from cancer.
Hollie Stevens - Awards and nominations:
2004 AVN Award winner - Best All-Girl Sex Scene, Video
2004 AVN Award nominee - Best Group Sex Scene, Video