Felix Vicious profile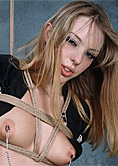 Felix Vicious has stated that she took her stage name from the cartoon character Felix the Cat and Sex Pistols bassist Sid Vicious. She has one of her cheeks pierced.
Felix Vicious appeared in Eon McKai's film, Art School Sluts in 2004. The film was one of the first alt porn releases by the adult industry, featuring real raver, goth and punk girls in explicit scenes on video. Vicious also appeared in Mckai's altporn, Neu Wave Hookers.
On July 31, 2006, Vicious announced her retirement from the adult film industry, choosing to focus on her DJing career and college. According to her website, she officially retired on August 9, 2006.
Birthday: August 26, 1983
Astrology: Virgo
Birthplace: Denver, CO
Years Active: 2002-2010
Ethnicity: Caucasian
Nationality/Heritage: American
Hair Colors: Blonde/Light Brown
Measurements: 34B-28-34
Height: 5 feet, 8 inches (173 cm)
Weight: 127 lbs (58 kg)
Tattoos: small of back; right shoulder blade; red and black star on right calf
Non-Ear Piercings: left cheek; navel; tongue; right eyebrow