Eva Angelina profile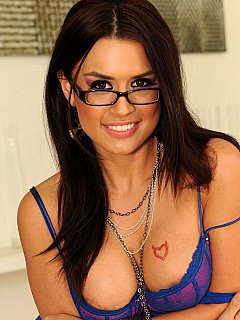 Birthday: March 14, 1985
Astrology: Pisces
Birthplace: Huntington Beach, CA
Years Active: Started at 2003
Ethnicity: Caucasian/Asian/Latin
Nationality/Heritage: Chinese/Irish/Cuban
Hair Color: Brown
Measurements: 34D-25-36
Height: 5 feet, 3 inches (160 cm)
Weight: 118 lbs (54 kg)
Tattoos: heart on left breast; lower back; above outer right ankle
Non-Ear Piercings: right nostril; nipples; navel
Performer AKA: Angelina Del Mar
Eva Angelina is an American pornographic actress and adult model. She began her career at 18 and is known for performances in a wide variety of genres, including gonzo, and for wearing glasses.
Eva is of Cuban, Chinese, Irish, and English descent. She has said that she came from a "very wealthy" background, but that when she turned thirteen, her family "pretty much lost everything." She entered the porn industry in 2003 three months after she turned 18 by answering an advertisement in the newspapers; her first scene was for the Shane's World series. She has said she was so eager to be in porn that she started making her own homemade porn videos when she was 13.
Eva Angelina is famous for wearing glasses during sex. She had said on film shoots she gets sent home to get them if she forgets to bring them with her, and during a visit to one AVN Awards show she wasn't recognized as she wasn't wearing her glasses. The IAFD and the Adult Web Movie Database credits her with performances covering a wide range of genres including interracial, bondage, group sex and so forth - recently adding anal sex and DP in the film Upload (2007), E for Eva (2008) and Big Wet Asses 12 (2008) (which was her first anal gonzo film).
She took a temporary break from porn between May and November 2004 to accommodate her then boyfriend's wishes. During which she returned to school and worked at Macaroni Grill in Valencia, California. The boyfriend, Dan Beard, committed suicide on November 7, 2004. Angelina soon after returned to adult films. In late 2005 Eva considered joining the US Navy but never did and in an email to Alexander "Monstar" Raymond she wrote the following:
"obviously it was really important for me to leave this business with closure...feeling like i have had my full run and having gotten the appreciation and acknowledgment i feel i deserve... unfortunately...or maybe fortunately...i don't really think like i got any of those things accomplished to its full extent. I've decided to put my military career on hold for as long as possible. i want to feel like I've done everything i can in everything i do and i have not done so in this career. I've thought long and hard... at times i have felt like not getting nominated was a sign saying get to the navy asap... but on the other hand i have been feeling 'this is not how i want to end this stage in my life" so I've decided to not give up... i am gonna work twice as hard and do everything right this years and hopefully in the years to come. i need to make my imprint on this business. i was once told, "use this business don't let it use you". now I'm ready to do so. thank you for listening."
It was reported in June 2008 by XFANZ that Angelina is pregnant. AVN.com attained an exclusive comment through Angelina's publicist on June 8, 2008 confirming Angelina's condition, the sex and the intended name of the child:
"she has a name ? it's Sylvie ? and it happened at a good time, because she needed a break to focus on her personal life, but she's looking forward to coming back to the industry a year from now stronger than ever."
Currently Eva Angelina is on a extended hiatus from adult films with an intent to return in mid-2009. She is also married to fellow adult film star Danny Mountain.
Eva Angelina's Adult Awards:
2007 Nightmoves Best Actress - Fan's Choice award.
2008 AVN Award - Best Actress (Video)
2008 AVN Award - Best Solo Sex Scene (Video)
2008 XBIZ Award - Female Performer of the Year
2008 XRCO Award - Single Performance, Actress
2010 AVN Award - Best All-Girl Group Sex Scene
2010 XBIZ Award - Pornstar Website of the Year
2010 XRCO Award - Best Cumback
2011 AVN Award - Best Tease Performance
Eva Angelina's BDSM limits:
Bondage: I can be tied up in suspension bondage.
Penetration: Vaginal Penetration by toys.
Female contact: Full girl/girl contact with strap on sex is okay
Male contact: Full intercourse with condom is ok
Pain: Moderate. I understand I have a safeword.