Diana Doll profile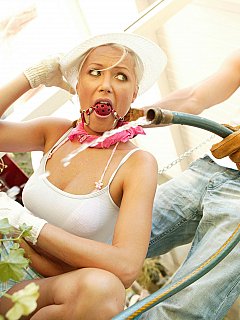 Birthday: July 22, 1976
Astrology: Cancer
Birthplace: Slovakia
Years Active: Started at 2001
Ethnicity: Caucasian
Nationality/Heritage: Slovak
Hair Color: Blonde
Measurements: 34B-24-35
Height: 5 feet, 6 inches (168 cm)
Weight: 110 lbs (50 kg)
Tattoos: tribal v-shape above tailbone
Performer AKA: Sue Diamond
Diana Doll describes herself:
"Helloo everybody.... My name is Diana Doll. I'm movie star and I do that what mainstream movie stars doesnt want to do :)))
I'm from Slovakia. As first I need to say sorry for my english because this is not my owen language and I'm not good to use sometimes right words .... But I think u can understand me :)
I'm porn star almost 4 years now. My name was before SUE DIAMOND but I had to changed of one girl in Czech Republic because she used ''I can say the same name '' Susie Diamond. Sue is just short name of Susie or Suzie. Well .... she didnt want to change name and she was shorter time in the bussines and people was confused who is who and they were thinking that i changed hairs on black. Well I took this in my hands and let to know people who I'm with name DIANA DOLL.I didnt use completly new name because name DianaDoll i used on Live Video chat with this name.
I'm graphic designer but i'm so busy that I dont care so much about this job anymore but soon how is possible i want to be back in my old job too :) I'm working on my own official website... so soon how is possible u can see that too.
What else about me??? I do make up for movies and I really like this job .. I like to make girls more beautiful than they are :)"
Diana Doll's Awards and nominations:
2008 AVN Award nominee - Female Foreign Performer of the Year
2009 AVN Award nominee - Female Foreign Performer of the Year
2011 XBIZ Award nominee - Milf Performer of the Year
2012 AVN Award nominee - Group Sex Scene, Orgy