Dannii Harwood profile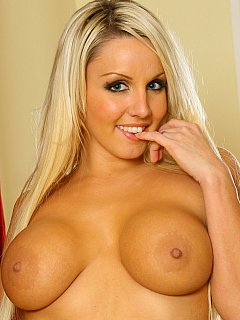 Dannii Harwood was born in Neath in South Wales in 1982. Her full name is Danielle Lisa Harwood. Girl started taking ballet classes when she was barely walking! It was a real natural show off for her!
At the age of 18, after three years of numerous dance jobs and auditions in the west end and on tour Dannii went to her very first photo shoot. Hot blonde discovered that she not only had talent on stage but in front of the camera too. She knew she was always quite popular with the guys but never really thought about pursuing a career in modeling. Miss Harwood had her pictures developed and she showed them to a few agencies. Adult model Dannii was born!
In two years Dannii Harwood had appeared in many top-shelf adult magazines and many world-wide famous newspapers like: The Sun, The Daily Star, The Sunday Star.
Currently Dannii is running her own website and she is also a European Playboy Model.
Dannii Harwood truly loves her job and she is absolutely living her dream! Modeling is a tough industry and she feels so proud for having finally making it! All the fans are welcome to visit her official website by following the link below.
Dannii Harwood personal data:
Birthday: June 19, 1982
Birthplace: Neath, South Wales
Ethnicity: Caucasian
Nationality/Heritage: English
Eye Color: Green
Hair Color: Blond
Measurements: 32F-26-34
Height: 5 feet, 6 inches (168 cm)
Weight: 125 lbs
Full name: Danielle Lisa Harwood