Cherry Ferretti profile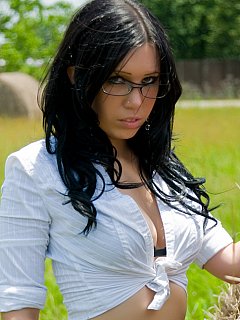 Birthday: June 22, 1986
Astrology: Cancer
Birthplace: Cypress, Texas
Year Active: 2009-2011
Ethnicity: Caucasian
Nationality/Heritage: American
Hair Color: Black
Measurements: 32C-29-36
Height: 5 feet, 4 inches (163 cm)
Weight: 105 lbs (48 kg)
Tattoos: Cherries on right bikini line
Non-Ear Piercings: Navel
Cherry Ferretti was born June 22, 1986 in St. Louis Missouri, two days later she was adopted to a family in Houston, Texas, where she grew up. She is of Irish, Native American, and Italian decent. She lost her virginity at twelve, and knew she wanted to do porn when she was 14 after seeing a Chasey Lain video; This was also when she realized her attraction for women.
Cherry was 15 when she got her first tattoo, then 16 for her second. She started doing live webcam shows with a girlfriend of hers in 2004. She was then found by a producer for all girl films based out of Austin. She did her first solo video at 18, as well as her first girl girl film for Thursday Night Video. She started her first pay site when she was 19, which she shop from her own home, and operated herself. She went to the University of Texas in Austin for Accounting, but decided she'd rather just be in adult films. In 2006 she owned and operated another pay site.
In early 2008, she helped out on the set of Pirates 2 as a second AC, and a basic PA for a few weeks. Later that month she decided on the name "Ferretti" for her last name while watching a movie with a friend.
In 2008, Cherry Ferretti decided she wanted to get more involved in the adult industry, so she drove out to L.A. for an interview with LA Direct. In August 2008, she was represented by LA Direct, and in February of 2009, she decided to be represented by Type 9 Models. Since then, she's shot for Evil Angel, Naughty America, BraZZers, Bang Bros, XXXHorror, Galactic Girls, Pussy Eating Club, Cezar Capone, Amateur Teen Kingdom, Hustler, and she was an extra in a few films as well.
Cherry has lived in St. Louis, Vegas, Fort Lauderdale, Cypress, Tx, and Los Angeles since 2008. She is currently in the Los Angeles area. She is a bi-sexual, who does not chose one side over the other. She was married in August 2008 to a female; her marriage is currently being annulled. She enjoys singing karaoke, going out with friends, cooking, going on road trips, playing with her Yorkie named Bimmer, and playing World of Warcraft. Hustler even named her the "World of Warcraft Temptress." Her favorite sexual position is doggy-style, and she loves to go down on males and females.