Britney Skye profile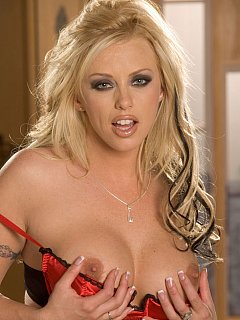 Birthdate: November 5, 1977
Birth location: Los Angeles, California, U.S.A.
Years Active: 2001-2009
Measurements: 32D-24-34
Height: 5 ft 5 in (1.65 m)
Weight: 118 lb (54 kg/8.4 st)
Eye color: Green
Hair color: Blonde
Skin color: White
Natural breasts: No
Ethnicity: Caucasian
Alias(es): Britany Skye, Britany Sky, Britney Skye, Brittaney Skye, Brittany Skye
Brittney Skye is an American pornographic actress and film director.
In high school Skye was a cheerleader for two years, although she says she was "the horny kid" in high school, and between boys and her love of snowboarding did not attend school that often. She attended Southampton High School on Long Island for a time, but finished up in California.
Before her film career, she used to design children's bedrooms and worked for a retail store. Britney Skye first hit the hardcore scene in 2001, and currently she has featured in more than 338 titles, notably many episodes of the Shane's World series.
She had refused to sign a contract with any adult industry companies, claiming she wanted to work for herself. In November 2003, she signed a contract with Sineplex Entertainment to perform and direct for them, but that was quickly amended so she was not exclusive to Sineplex. She was also a model for and posed for TapOut Clothing, a Rancho Cucamonga based Mixed Martial Arts clothing company.
She says that her favorite male porn star to work with is Nacho Vidal and her favorite female porn star is Belladonna.
On June 15, 2003, Britney Skye ducked under a boundary rope and ran onto the putting green at Olympia Fields Country Club during the final round of the U.S. Open. The actress, who was topless at the time and had the URL of an online casino written on her chest and back, tried to present a flower to one of the competitors, Jim Furyk.
After spending a night in county jail, Skye was charged with one count of disorderly conduct for her actions, then left the state to return to her home in California. When she returned to Illinois for her court date, she found that the judge frowned on her actions and required her to spend an additional night in jail for leaving the state. She ended up paying $1000 and was put on probation for six months.
Britney Skye's Awards:
2004 - AVN Award nomination for Best New Starlet
2006 - AVN Award for Best Couple Sex Scene