Betka Schpitz profile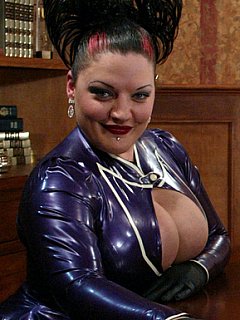 Mistress Betka Schpitz is based in Portland, Oregon.
Betka lives for latex, corsets and nurturing her sadistic side. She's gorgeous, curvy, and really evil.
She has been a lifestyle mistress for 9 years and have been accepting professional appointments for 3 years. She is of German-Welch descent and is from Dallas, TX, where she was a psychology major.
She is a practicing female supremacist who is very active in the local fetish community and leather social groups. She has a keen psychological understanding of Her subjects, as well as the necessary ability to get into the mind of Her submissive.
She is very select in whom She chooses to dominate and does not put up with unworthy fools of low class and character. She believes that Her presence near any slave is a blessing that that creature cannot begin to deserve. They may strive to become worthy of Her presence, a state that they cannot hope to achieve, but which is definitely amusing to watch them struggle towards!
She is verbally curt, with an advanced sense of humor and a wicked imagination.
Betka Schpitz details:
Ethnicity: Caucasian
Height: 5'10" (178cm)
Weight: 175 lbs (79 kg)
Eye color: Blue
Hair: Black
Bra/cup size: F (same as DDD cup)
Waist: 31"
Hips: 40"