Bailey Brooks profile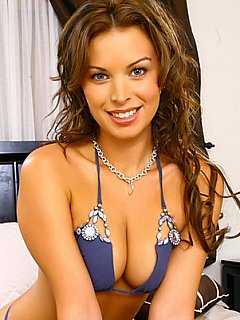 Date of Birth: February 8, 1986
Eye Color: Green
Hair Color: Blonde
Height: 175 cm - 5 ft, 9 inches
Weight: 55 kg - 121 lbs
Ethnicity: Caucasian
Measurements: 36A-25-35
Bailey's BDSM limits:
Bondage: I can be tied up in basic positions.
Penetration: Vaginal Penetration by toys.
Female contact: Full girl/girl contact with strap on sex is okay
Bondage: I can be tied up in basic positions.
Bailey is a hot girl with cinnamon skin, a great body, and a beautiful face, coming from Atlanta. Bailey has a kissable sensuous neck that flows nicely into a full pair of breasts. Her strong feminine legs look great when they are spread wide open taking the cock. Voluptuous, best describes Bailey's body, not thin, not husky, but all lustful curves. The ass, the legs, the flat abs, constitute a traditional hour glass figure that looks great on camera. Bailey enjoys performing in all positions. Performing doggy, and giving blowjobs appear to be her forte. Bailey's ass sticks out nicely when she is performing doggy, and her lips curl around the cock when she's performing a blowjob. Bailey has a tattoo right beneath the left side of her waist, and one on her lower back. In addition to that, Bailey has a navel piercing. Interracial or Girl on girl action his no problem for Bailey; she loves women. Routinely engaging in anal sex in her private life is no problem either, but she is not sure if she's ready to perform anal with a male pornstar. One of Bailey's best assets is her personality; she has a wonderful smile, and an awesome sense of humor.