Ariel X profile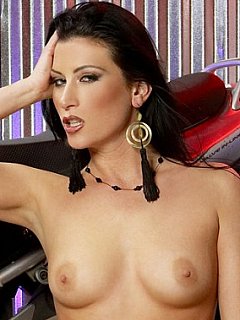 Birthday: May 15, 1980
Astrology: Taurus
Birthplace: Granada Hills, CA
Years Active: Started at 2003 as amateur BDSM/Fetish model
Ethnicity: Caucasian
Nationality/Heritage: Irish/Russian/Polish
Hair Color: Black
Measurements: 34B-24-36
Height: 5 feet, 4 inches (163 cm)
Weight: 110 lbs (50 kg)
Ariel X decided to get into modeling when a customer at the office she was working, told her she was too pretty to be sitting behind a desk and insisted that she got into modeling, but the customer did not offer any leads as to how she could "break into" the trade. Ariel's curiosity to become a model led her to a Minnesota photographer who offered to do trade shoot of all types of fetish material with her. She flew to Minnesota and spent a grueling 9 day's working on coming up with material for her first website. So that's where we leave off now. She has been Published twice already in the few months that she's been modeling and she is becoming extremely popular in the art community as she is exposed to more photographers who desire her look for their projects. Ariel is featured on several modeling/fetish/glamour websites and her popularity grows exponentially from day to day.
Ariel X Awards:
2007 AVN Award nominee - Best Tease Performance
2009 AVN Award nominee - Best All-Girl Group Sex Scene
2009 AVN Award nominee - Most Outrageous Sex Scene
2010 AVN Award nominee - Most Outrageous Sex Scene
Ariel X BDSM limits:
Bondage: I can be tied up in suspension bondage.
Penetration: Anal and vaginal penetration by toys.
Female contact: Full girl/girl contact with strap on sex is okay.
Male contact: I want contact kept to the minimum possible
Pain: I am a pain slut. I will have a safeword.