Anna Rose profile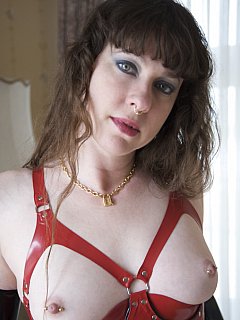 Birthday: September 19
Birthplace : Washington D.C. USA
Zodiac Sign: Virgo
Skin Color: White/Fair
Natural Hair Color: Brown/Red
Hair Length: Long/Middle of Back
Eye Color: Hazel
Height: 5'11
Weight: 130 Pounds
Waist: 29 Inches
Shoe Size: 9.5/10
Body Piercings: Both Nipples, Right and Left Inner Labia, Septum and Ears
Tattoos: Middle Upper Back, Right/Left Back Hips, Left Upper Arm
Anna Rose is the model (and author) for the BDSM photography book titled "My Love - Diary of a Loving S/M Relationship". Published in 2004 the book has received worldwide acclaim from many top fetish magazines such as Marquis, Skin Two, Secret and Hustler's Taboo.
Anna Rose have 2 websites - AlterPic and KinkyPonyGirl - where she posts pictures of her kinky life experiences for all of her Members to enjoy.
About KinkyPonyGirl: this site is focused on a young & submissive ponygirl named Anna Rose. The website pays great attention and detail to ponygirl play. Lots of sexy latex and leather along with hardcore acts and bondage action captured on video camera and photo camera.
KinkyPonyGirl has high quality photos and videos of Anna Rose in various sessions playing alone by herself, trained by her master or other fetish friends and models. Super kinky games such as outdoor ponygirl play, electricity games, ponygirl training, bondage sessions & so much more.