Amber Michaels profile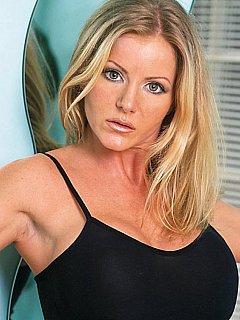 Amber Michaels, (real name Wanda Creech), was born in Bamberg, Bavaria and but raised in Miami, Florida after being adopted by American parents. Amber worked various jobs (like serving in the army and being a registered nurse) but was always a wild little nympho in the bedroom who was curious about stripping and exploring kinky sides of sex.
When Amber Michaels turned 30 she decided to give it try being an adult model but hated it. After six weeks she quit modeling but had been approached by a producer to make a movie. She agreed and made her first film (hardcore even) with her boyfriend called The Dallas Trip.
A short interview with Amber Michaels:
How long you have been in the business? 9 years
How many movies do you have done? Over 250, but who's counting?
What was your first movie? Dallas Sex Tour
What's your favorite scene? Ass Worship 2 with Frank Fortuna
Who is your favorite female performer? Nina Hartley
What's your biggest turn-on? Passionate kisses and having my neck softly bitten
What do you love doing sexually? S & M, bondage, suspension and flogging. And, yes, I truly LOVE Anal Sex!!!
What is your favorite sexual position? Doggie Anal
What photographers do you like to do work with? I really enjoy working with a lot of different photographers, but the majority of the images on my site are courtesy of Sean McCall Images.
Amber Michaels personal statistics:
Birthday: November 17, 1968

Birthplace: Bamberg, Germany but raised in Maimi, FL

Hair: Long and Naturally Blonde

Eyes: Bright Green

Measurements: 34DD-24-35

Height: 5'4"

Weight: 110 lbs

Tattoos and Piercings: Ankh tattoo behind neck, Scorpion tattoo on pussy, Pierced clit and belly button

Hobbies: Meeting with fans, working out, hiking, camping, cooking, dancing and, of course, bondage and sex are her favorite of all hobbies... She loves being tied up and enjoy making love!