Adrianna Nicole profile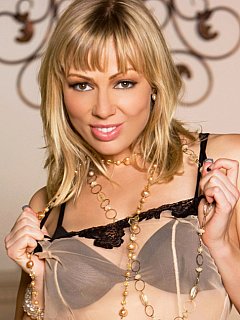 Date of Birth: Wednesday, March 25, 1981
Place of Birth: San Francisco
Height: 5 feet, 7 inches (170 cm)
Weight: 140 lbs (64 kg)
Eye color: Blue
Hair color: Blonde
Ethnicity: Caucasian
Adrianna Nicole (also known as Petal Benson and Seven) is well-known pornstar (took part in more then 150 adult films) and she is a real BDSM star also. Usually, she taking a submissive roles, but sometimes she can be a Mistress also. The galleries and video of Adrianna Nicole could be found almost on any serious american BDSM website.
She started in the adult film industry in 2000 doing bondage and BDSM work under the name of "Seven". She later changed her stage name to "Petal Benson" in 2002 when she was with noted BDSM artisan Simon Benson as noted when she worked with kink.com's websites. As of 2006 when she and Benson went their separate ways, she no longer uses the alias of "Petal Benson", though occasionally still uses "Seven" for her straight BDSM work.
She later changed her stage name to "Adrianna Nicole" when she formally entered the "vanilla" adult film industry in around 2004, and has since appeared in over 170 movies.
Adrianna Nicole's BDSM limits:
Bondage: I can be tied up in basic positions.
Penetration: Anal and vaginal penetration by toys.
Female contact: Full girl/girl contact with strap on sex is okay
Male contact: Full intercourse with condom is ok
Pain: I am a pain slut. I will have a safeword.
Adrianna Nicole's awards:
2007 AVN Award nominee - Best Group Sex Scene, Video - Fashionistas Safado: The Challenge
2008 AVN Award nominee - Unsung Starlet Of The Year
2008 AVN Award nominee - Most Outrageous Sex Scene
2009 AVN Award nominee - Most Outrageous Sex Scene - World's Biggest Cum Eating Cuckold
2009 AVN Award nominee - Unsung Starlet Of The Year
2009 XRCO Award nominee - Unsung Siren
2009 XRCO Award nominee - Superslut
2009 XBIZ Award nominee - Female Performer of the Year
2010 AVN Award nominee - Best All-Girl Group Sex Scene - Party of Feet
2010 AVN Award nominee - Best Group Sex Scene - Evil Anal 10
2011 AVN Award nominee - Best Oral Sex Scene - Fuck Face